Pastor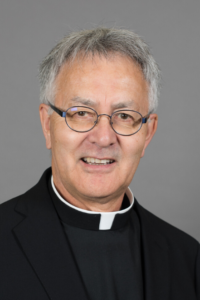 We welcomed Fr. Dominic Yuen to our Parish July 3, 2012.
Father Dominic was born and grew up in Brandon. He received all of his sacraments of initiation as well as celebrated one of his first masses at St. Augustine's Church. He received his diploma in Psychiatric Nursing at the Brandon Mental Health Center where he worked for some fourteen years. He received his Bachelors Degree at the Brandon University and his Masters of Divinity at the University of Western Ontario in London, ON. A graduate of St. Peter's Seminary in London, Father Dominic served as assistant at Holy Rosary Parish in Winnipeg and as pastor in Russell and Rossburn until being sent to St. Augustine's as pastor in July, 2006. Father Dominic attributes his relationship with Jesus Christ and his early spiritual development to his mother, the priests of St. Augustine's and to many of the Sisters of Our Lady of the Missions whom he holds with deep affection. Father considers it an awesome privilege to have been able to serve his home parish as pastor.  On July 3, 2012, Fr. Dominic has been appointed Pastor of St. Anthony of Padua Parish (WK) in Winnipeg.
Read more »
Mass Schedule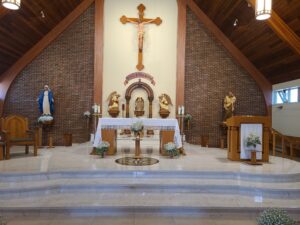 National Day for Truth and Reconciliation Mass at St. Kateri Tekakwitha Parish 11:30am Watch Live

Dispensation from Sunday Obligation: While we continue to move toward a total opening, the dispensation from the Sunday obligation to attend Mass is granted  to the faithful through February 28, 2022.                              Archbishop's Memo
Mass Attendance: You no longer have to call in advance to attend mass but you do need to give your name and number at the door for contact tracing. Masks are mandatory, social distancing is required, our numbers are not affected by the new orders and we will not require parishioners to present proof of double vaccination. masses are Monday to Friday 9am, Saturday 4pm and Sunday 9am and 11am. confessions are heard on Saturday between 3pm and 3:45pm. (Oct 6, 2021)
Location: 250 Burrin Ave, Winnipeg, MB  R2V 1E5
stanthony@mymts.net
Please click read more for more details or see the calendar under the Events tab for the schedule.
Read more »
History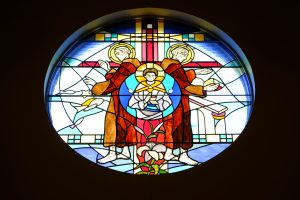 In 1915, there were some ten Roman Catholic families in West Kildonan who attended church.  The mass was ….
Read more »